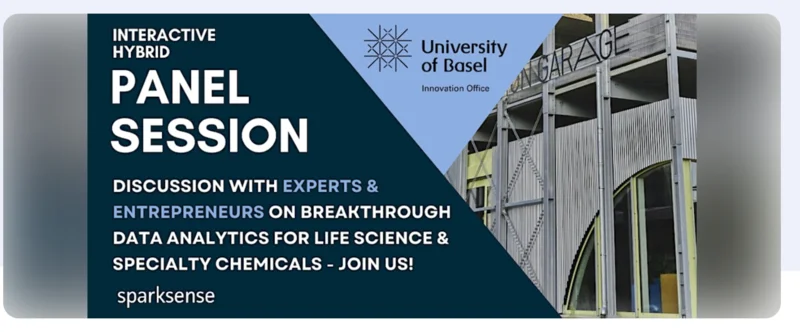 Data Analytics for Life Science & Speciality Chemicals
About this event

1 hour 30 minutes

The characterisation of 3D crystals at nano-level, or a mixed compound and the simulation of a bioreactor mixing processes have a common foundation: advanced high-volume and high-speed data analytics.

The life Science and speciality chemical industry has a huge opportunity to implement data-driven development for new materials and process development. This session is a unique opportunity of Entrepreneurs, Decision-makers and researchers to discuss real-life applications. Join us for an interactive panel session on the latest developments in breakthrough data analytics in the Basel area. This event will be held both in-person, in the University of Basel - the Pupella & Innovation Garage, and online.

Engage in a discussion with top experts from Q.ant, Eldico Scientific, Novartis, M-Star Simulations and Qnami, as well as University of Basel, Innovation Office.

Who should join?

Entrepreneurs launching hardware or software solutions for life science and specialty chemicals
Researchers, scientists, and engineers working in life science and specialty chemicals industries who want to uncover real-life applications of data-driven innovative applications applied to their field.
Decision-makers and managers in companies who want to speed up their research & development activities using data analytics of data analytics in their industry.
Students or academics who are interested in learning about real-world applications of data analytics and networking with industry professionals.

What to expect?

Gain actionable insights how leading Life Science, Specialty Chemicals players leverage advanced data analytics to speed up novel material discovery and process development.
Learn how Entrepreneurs identify and develop solutions and new business models in data analytics.
Learn about the latest trends and breakthrough technologies in data analytics that can benefit to your business
Get inspired by success stories of how these technologies have been implemented in real-world scenarios with experts from M-Star Simulations and Q.ant, as well as the University of Basel.
Network with link-minded professionals and entrepreneurs in the industry.

Companies present on the panel:

M-Star Simulations - a software company that develops computational tools for 3D modelling for engineering and biological systems. By pairing modern algorithms with graphical processing card (GPU) architectures,it enables users to quickly perform calculations with predictive fidelity that rivals physical experiment. Founded in Maryland, USA, in 2014, M-Star Simulations has grown to include commercial, government, and academic users across the world.
Q.ANT - Develops novel sensors and photonic computing chips based on their Quantum Photonic Framework. At Q.ANT, photonic quantum technology is at the center of product developments. They make quantum and sensor technology ready for industrial use, aiming at ensuring the decisive Q.ANTum competitive advantage for their customers.
ELDICO Scientific AG - Develops, manufactures and commercializes electron diffractometers, i.e. novel analytical instruments for electron-based crystallography to investigate nano-crystalline samples. ELDICO recently launched its ED-1, the world's first dedicated electron diffractometer for researchers in large, fast-growing industries such as the pharmaceutical industry, electro mobility, advanced inorganic materials and the evolving MOF/COF/SOF sector.
The University of Basel - founded in 1460, is the oldest university in Switzerland. As a research-intensive university, it offers Swiss and international students a broad range of degree programmes. The Innovation Office at the University of Basel aims to raise awareness for innovation and entrepreneurship among students and researchers and promotes an entrepreneurial spirit.
Novartis - reimagining medicine to improve and extend people's lives. As a leading global medicines company, they use innovative science and digital technologies to create transformative treatments in areas of great medical need. Novartis ranks among the world's top companies investing in research and development. Novartis products reach nearly 800 million people globally.

Representatives present on the panel:

John Thomas and Johannes Wutz from M-Star Simulations. Prior to M-Star, John was a research professor at Johns Hopkins University. He holds a PhD from Carnegie Mellon University and an MBA from Georgetown University. Johannes Wutz is an Application Engineer holding a Dr.-Ing. degree. They are both experts in developing computational tools for modeling momentum, energy, and mass transport within engineering and biological systems.
Dr. rer. nat. Andreas Schürzinger, Sales Lead at Q.ANT, will share his expertise in developing novel sensors and photonic computing chips for life sciences and specialty chemicals industries.
Eric Hovestreydt from Eldico Scientific has over 30 years of experience in product development and sales of single-crystal diffractometers. He worked on application consulting and development of customized solutions for Siemens and market leader Bruker AXS.
Alessandro Mazzetti represents the Innovation Office of the University of Basel, responsible for industry-academia collaborations and strategic programs in entrepreneurship and innovation. With over 10 years of experience, he has been working at the interface between start-ups, academia and large corporations to develop innovative processes and products.
A representative from Qnami, a Basel-based Startup, will share insights on its new quantum sensing technology from the lab work of Prof. Dr. Patrick Maletinsky at the University of Basel.
Max Eggersdorfer from Novartis - leading a scientific modeling team in small molecule drug development at Novartis which is covering a broad range of topics from molecular and solid state modeling to process scale-up by CFD.

Don't miss out on this exciting opportunity to learn and network in the life science and specialty chemicals industries.