Trinational HealthTech Days #3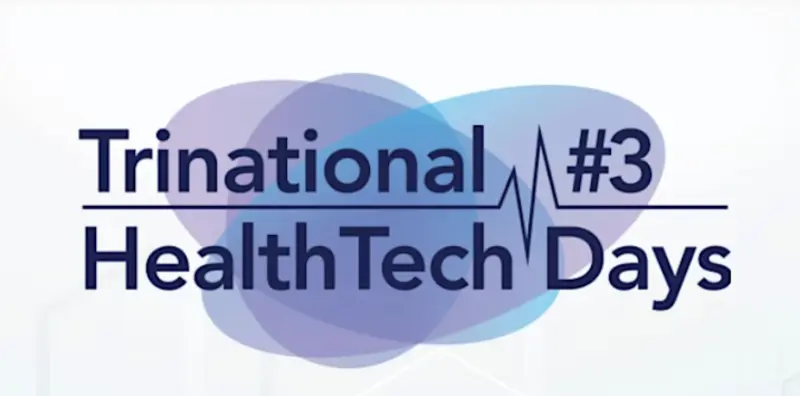 Connecting the trinational healthtech innovation ecosystem for the startups of tomorrow.
About this event
Organised by the University of Basel, together with its partners from the Life Science Accelerator Baden-Württemberg, BadenCampus, and SEMIA (member of the Quest for change network), the 'Trinational HealthTech Days #3' business event aims to connect innovative startups and the ecosystems from France, Germany and Switzerland to promote international cooperation in the health technology sector (Biotech, MedTech, Digital Health) with a triple challenge:

A better understanding of the opportunities of strategic foresight and new business models for life science startups.
A better understanding of how corporates work together with startups to improve their chances of success.
The opportunity to network with international startups and connect with funds, VCs and corporate investors.
PROGRAM

DAY 1: Thursday 20th of October, Pupella Innovation Garage (Kreuzstr. 4 4123 Allschwil)
10.30: Doors open, registration, coffee

11.00 : Opening remarks & Intro to Trinational HealthTech Days

11.15 – 12.15 : Session 1: The Upper Rhine Life Science Innovation Ecosystem – Leading in Europe?

Keynote: A tri-national startup success story, Simon Ittig (CEO & Co-Founder, T3 Pharmaceuticals)
Panel discussion - The best place to do life science innovation in Europe - Panelists: Jean-Luc Dimarcq, (Managing Director, IHU Strasbourg), Philipp Marchand (Managing Director, Vossius & Partner)
Lunch

13.30 – 15.00 : Session 2: Workshops: Collaboration with Industry – Invest (Growth of startup)

Session A (for MedTech startups) Speakers : Elmar Zurbriggen (CEO, AOT), Tobias Wilken (CPO, AOT), Melanie Schäpers (COO, Sefunda), Alexandra Vallon-Eberhard (Roche DX)
Session B (for Biotech startups) Speakers: Samantha Brandler (Head of Research Innovation Europe, CSL Behring), Sara Nunez (Co-Founder, Forty51 Ventures), Rest of speakers TBC
Session C (Digital session) Speakers: Frank Willems (Medipee), Dr. Christoph Wagner (Managing Director, WBG Holding), Steffen Bäumler (Head of Innovation and Venture Building, NOVAZOON), Christian Kraft (Director Corporate Development, B. Braun Innovation Hub), Bastian Deck (Managing Partner, NOVAZOON), Henning Trill (Managing Director, eXO ventures), Murat Aktürk (Global Director of Innovation and Partnership, GE Healthcare)
15.00 – 15.15 : Closing, Learnings & Call to Action

15.15 – 17.00 : Networking & Apéro

DAY 2: Friday 21st of October – Online
13.00 – 13.15 : Opening & Instructions

13.15 – 16.30 : One-on-One sessions

Are you interested in participating on DAY 2 for the investors matchmaking?

Then get in touch with us!

Contact [email protected] if you are an investor interested in participating.

Contact christianelias.schne[email protected] if you are a startup interested in participating.

We are excited to seeing you there!
Freitag, 21. Oktober 2022
Veranstaltungsorte