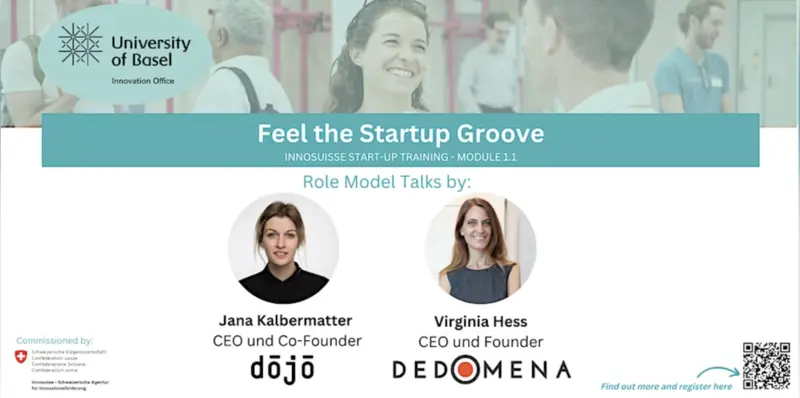 Innosuisse Entrepreneurship Training Module 1.1 – Business Ideas in Basel
Zu diesem Event
2 Stunden 30 Minuten
Mobile E-Tickets
! Important: Please register via this Link: https://entrepreneurship-training.ch/module1/basel/registration/

Successful role models are the best motivation for anyone wanting to take the plunge into self-employment. At our module 1 «Business Ideas» motivational event, you will meet interesting high-profile entrepreneurs and be inspired by their success stories.

What founders will you meet on Wednesday, December 7th?

Jana Kalbermatter: Co-founder & CEO of dojo "The future of storytelling is a stick."

Virginia Hess: Founder & CEO of Dedomena "Smart Urban Analytics"

Special guests: At the beginning of the event you will experience 5 project pitches of our current Entrepreneurship Training cohort. There will be great projects from the art sector, over blood clotting sprays to hangover cures and many more.

PROGRAM

6.00pm Welcome & Introduction

6.15pm Project pitches of current Modul 2 cohort, team leads:

– Anna Luhovska

– Christian Lotz

– Linus Bader & Sameera Hemdev

– Simon Bürssner

– Yang Sun

6.30pm Start-up Talk #1: Jana Kalbermatter, dojo

6.45pm Start-up Talk #2: Virginia Hess, Dedomena

7.00pm Q&A

7.15pm Apéro & Networking

Be there to meet the current cohort and get inspired by successful founders.

The module 1 «Business Ideas» motivational event will be held in English.
Mittwoch, 7. Dezember 2022
Veranstaltungsorte