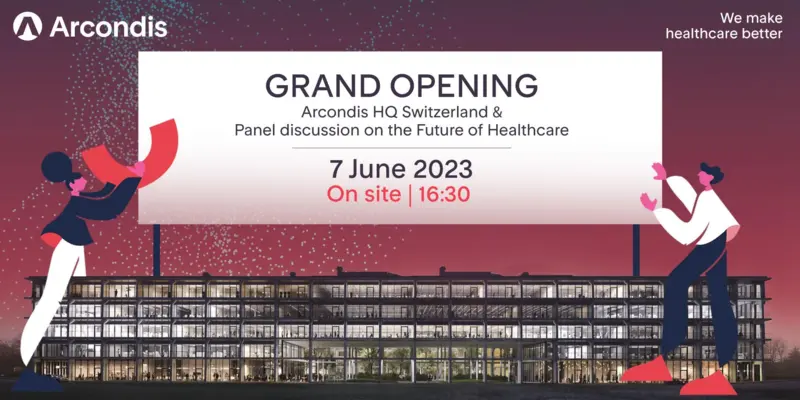 Arcondis HQ Switzerland & Panel discussion on the Future of Healthcare
Dear Neighbour
We are delighted to announce the grand opening of our new Swiss Headquarters at Swiss Innovation Park Basel, Main Campus and would like to invite you to join us to the festivities. After a year of careful planning and with much anticipation, we have realised our dream to become part of the BaseLink community.
As part of the grand opening, we will be hosting a panel discussion on the Future of Healthcare. Our esteemed panellists will share their insights and perspectives on the latest trends, challenges and opportunities in the healthcare industry. The discussion will be moderated by Heiko Visarius, PhD alongside our panellists, Stephanie Bova, Head of Strategy and Innovation at Becton Dickinson, Christian Hebich, Group CEO at Arcondis and Dr Marko Loparic, Co-founder of Artidis.
Here is a quick preview of what we have in store for you:
• 16:30 Doors open
• 17:00 Welcome
• 17:30 Panel discussion on the Future of Healthcare followed by an Apéro riche and networking.
We are excited to share this milestone with you and look forward to welcoming you to our new headquarters.