Paper Reading Group: AI in Lifescience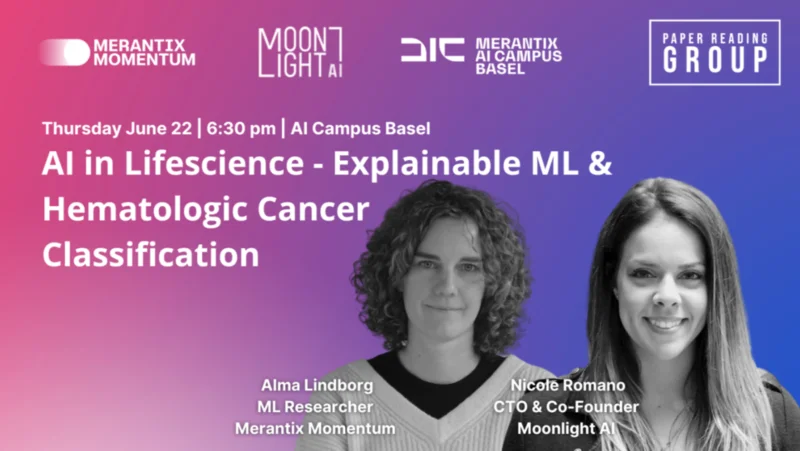 Basel Special
The Paper Reading Group is visiting Basel!🇨🇭🤖

Join us for the next round of our Merantix AI Paper Reading Group, as we discuss the latest advancements in the dynamic world of AI with the community🚀

In this edition, we will be focusing on the fascinating intersection of AI in Lifescience - specifically on Explainable Machine Learning and Hematologic Cancer Classification. Our special guest speakers for this event are Alma Lindborg and Nicole Romano.

Alma Lindborg is a machine learning researcher at Merantix Momentum, holding a Ph.D. in mathematical modeling and cognitive neuroscience from 2020. With her expertise, she has published several papers utilizing machine learning models to predict biophysical data.

Nicole Romano is the CTO and co-founder of Moonlight AI. She brings a wealth of knowledge to the table with her Ph.D. in regenerative medicine from Stanford and her extensive experience of 8 years in building and leading data science teams at startups in tech and biotech.

Join us at the AI Campus pop-up location in Basel, where you'll have the opportunity to connect and discuss with the vibrant Basel ML community!
Donnerstag, 22. Juni 2023
Veranstaltungsorte